EN
DE
Global Client Perspective
Views on the Executive Search and Leadership Consulting Profession
The AESC Global Three-Year Benchmark Survey
by the Association of Executive Search & Leadership Consultants (AESC)
Every three years, AESC conducts a benchmark survey to gather the views of executives worldwide – the clients our members serve—on the value the executive search and leadership consulting profession provides on critical talent challenges. The survey also allows us to identify trends and emerging issues that are front-of-mind from a broad range of industries and geographies, including risks around inflation, recession, and disruptions related to Covid 19 and supply chain disruptions.
In terms of top internal challenges - The #1 challenge organizations face is attracting top talent. As we look at the top five internal challenges, we see the importance of both attracting and retaining top talent, developing future leaders, and creating a culture of innovation and accelerating digital transformation.
This year we probed more deeply on the challenges clients are facing when it comes to attracting and retaining executive talent, contrasting perspectives from corporate leaders with the views of executive candidates themselves. We delved into when and why organizations turn to outside advisors to address pressing, high-stakes talent issues. And we saw a continuing trend with regard to openness in seeking their executive search firms' assistance with complex executive talent issues including leadership development, board advisory services, succession planning, diversity and inclusion, culture assessment and alignment and more. As we look at leaders, teams, culture and strategies we see that solving complex talent issues requires a broad range of expertise. Clients see the value of trusted advisors, teamwork and cross-functional expertise and collaboration. They are increasingly open to seeking the assistance of the world's top executive search and leadership advisors – AESC members – to work together on developing solutions to the most complex challenges around attracting and retaining diverse leaders, building a culture of inclusion and innovation, and developing a strong pipeline of future leaders.
Further Details see here:
Global_Client_Perspective_Report_2023.pdf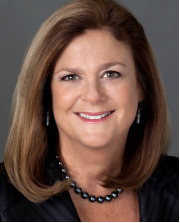 Karen Greenbaum
AESC President & CEO